FOR IMMEDIATE RELEASE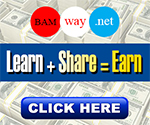 BUSINESSMAN REVEALS AMAZING DATA ABOUT NETWORK MARKETING; THAT ALSO INCLUDES A LAWSUIT AGAINST PRESIDENT DONALD TRUMP AND THREE OF HIS CHILDREN!
Los Angeles, CA | It was 1998 when BAMway.net's Founder, BryanFranklin.net, was able to retire at 36 years old from the Technology sector.  That year, Franklin, a Visionary, Entrepreneur, Technologist and Author, founded BAMway.net as an alternative to Network Marketing companies like FHTM, ACN, AVON, Herbalife, etc.  Having become conscious of his immediate family's inability to retire early, he set out to do something about it.  Buckminster Fuller says, "You never change things by fighting the existing reality. To change something, build a new model that makes the existing model obsolete."
Franklin began researching why so many people failed at Network Marketing and discovered some amazing contributing factors that occurred in 1980 with the introduction of FED-X's Digitally Assisted Dispatch System (DADS) allowing customers to schedule same-day pickups, making the Independent Business Owner (IBO) largely unnecessary, and in 1994 when the Internet was introduced to the general public - the final blow to the Network Marketing model.
In 2012, Franklin co-authored the book "Network Marketing Success? - "The greatest STORY ever SOLD!" with DonnaShannon.net as a way to help educate the public that so often tries Network Marketing in the desperate hope of becoming financially secure.    According to Franklin, "The truth is less than 5% of the people that join a Network Marketing company are going to succeed!"  This means the vast majority of people are going to give up, try another Network Marketing company, or fail.
BAMway.net was created to allow budding Entrepreneurs to work collaboratively to make a lot of money vs. as an Independent Business Owner.  Around 40,000 people join Network Marketing companies daily generating over $165 Billion dollars per year for the industry worldwide, which targets poor people.  A new lawsuit filed in federal court in Manhattan accuses President Trump, his company and three of his children of using the Trump name to entice vulnerable people to invest in ACN and other business opportunities.
Text the keyword BAM to 323-451-5050 to follow BAMway.  Bryan is available for interviews on this subject via Radio, TV, Churches, Universities, etc.
###