BAM

inked a BILLION DOLLAR ADVERTISING deal with Denny's in 2012.  We will do more deals like this again with your

SUPPORT

!
If you have questions, bring them to

ClubBAMhouse.com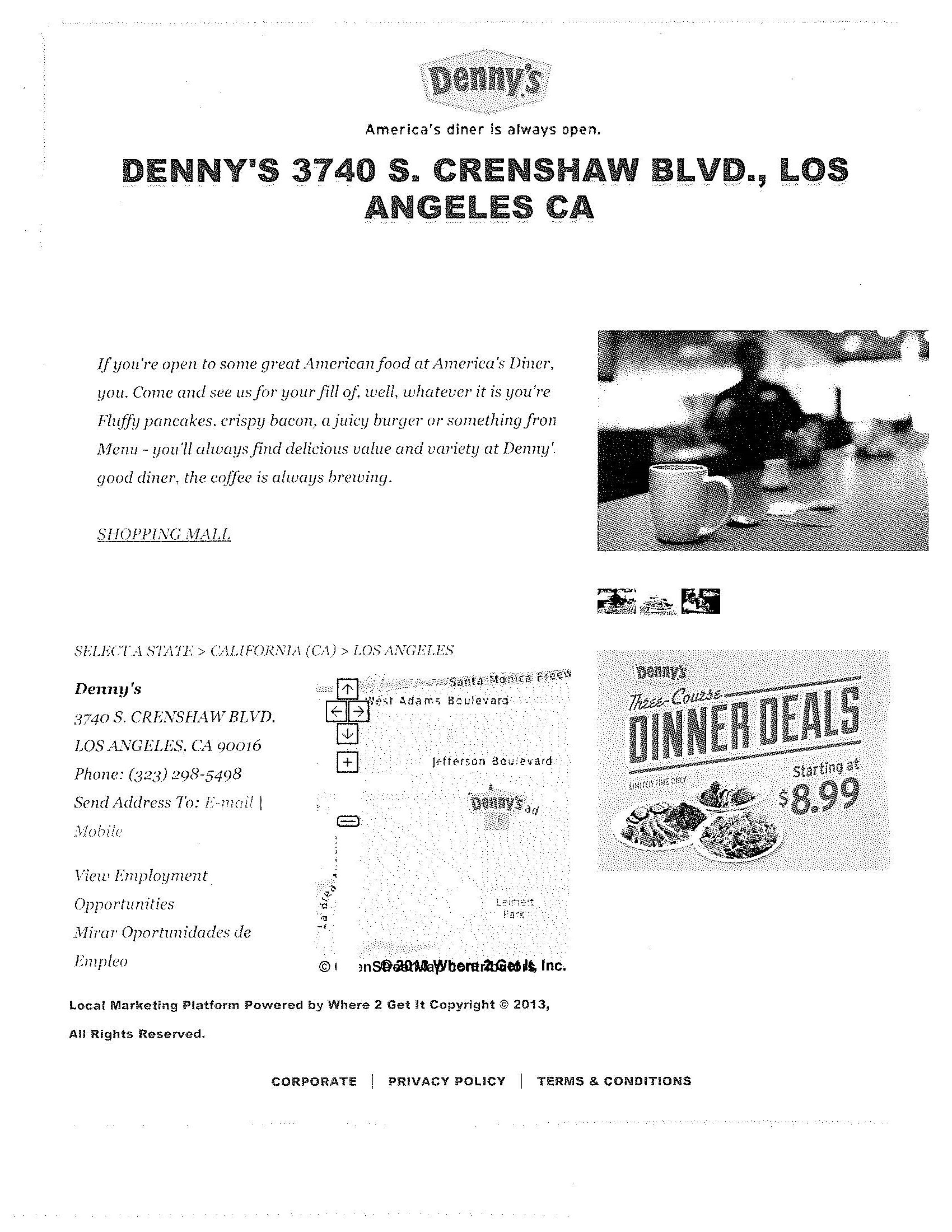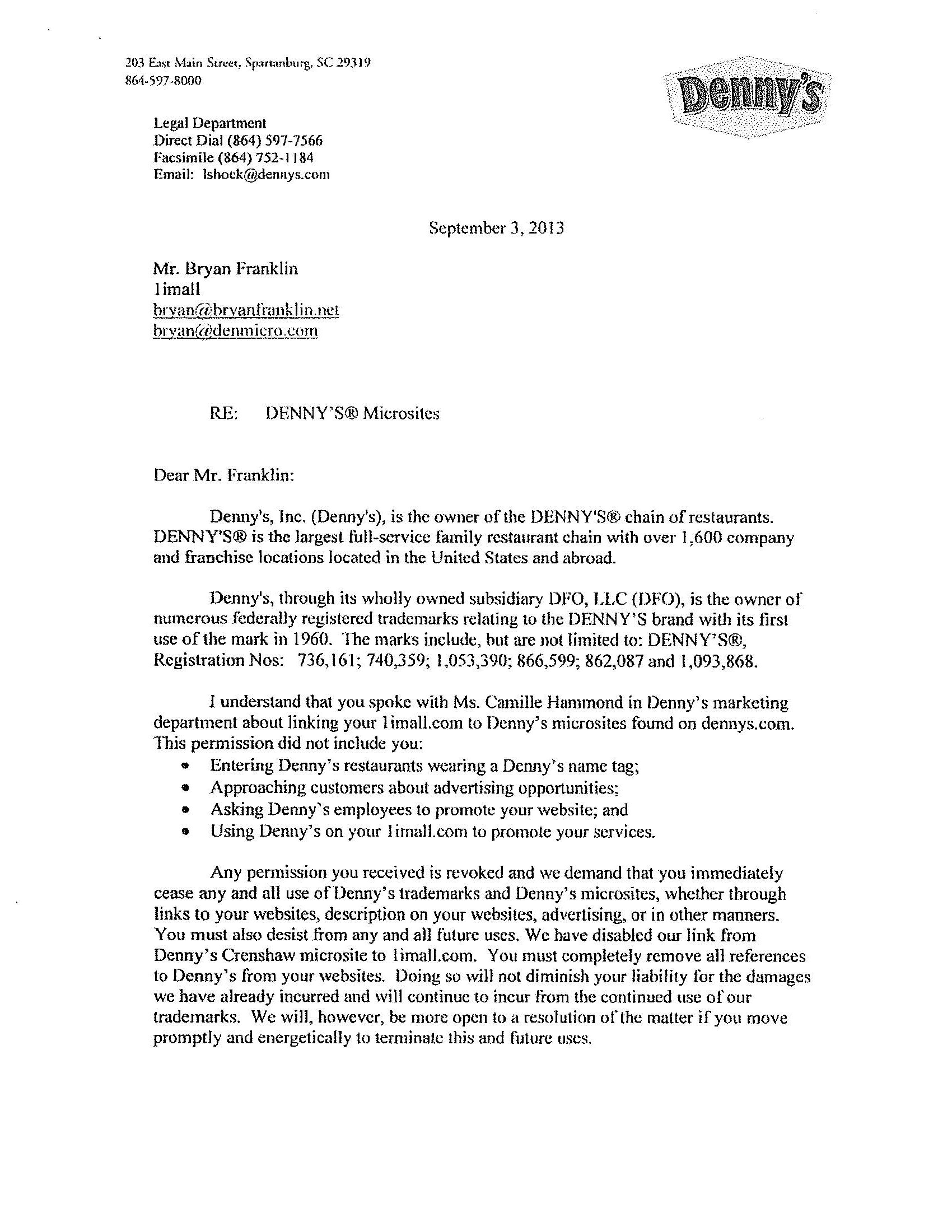 From: bryan@bamway.net <Bryan@BAMway.net>
Sent: 25 August, 2019 10:23 PM
To: Mark Graves, Esq. (Mark@MarkStephenGraves.com) <Mark@MarkStephenGraves.com>; Everett Glenn, Esq. (eglenn@espeli.org) <eglenn@espeli.org>; Tiffany Muhammad, Esq. (TBMlawGroup@gmail.com) <TBMlawGroup@gmail.com>; James Simmons, Esq. (SimmonsAttorney@gmail.com) <SimmonsAttorney@gmail.com>; Corey Edwards, Esq. (cedwar2002@yahoo.com) <cedwar2002@yahoo.com>; Chris Rosette, Esq. (AndreRosetteCompany@gmail.com) <AndreRosetteCompany@gmail.com>
Cc: Lucha Cisneros (Lucha@BAMway.net) <Lucha@BAMway.net>; Reu Ben Yahweh (Reu@BAMway.net) <Reu@BAMway.net>
Subject: The Time Has Come To Reply To The Denny's Attached Cease & Desist (With Our Demands!)
Greetings Esteemed Law Professionals,
We were waiting for the "go ahead" from Mr. Smothers, Black Owner at Crenshaw & Coliseum for our next move…to possibly raise a racial discrimination concern based on their documented racist history.  We got up to 9 locations before receiving the cease and desist which in our opinion was not warranted and a heavy hand slap!
We were concerned that Denny's first retaliatory action would be to commandeer Mr. Smother's very successful Franchisee location.  That concern has been removed because Mr. Smothers has sold his Denny's at Crenshaw & Coliseum.
We will be seeking financial damages in the amount of at least $199 x 1700 locations = $338,300.00 + emotional/financial hardship of $800,000.00 expeditiously.
We will be demanding that Denny's reinstates BAM.eco formerly 1iMALL.COM to implement our model as per the original approval.
We will have Denny's pay our Legal Team's Attorney fees.
Will you reply to all with your thoughts and your desire to assist contingently?
Here is how the money breaks down:
600 customers/day with 1% to ADVERTISE with BAM = 6 /day
6 x $50 to the Franchisee = $300 / day
$300 / day x 365 = $109,500 / year
$109,500 x 1600 Denny's  locations = $175,200,000.00 deal at 1% success!
Here are the model details:
Bryan Franklin,
_______________________
BryanFranklin.net
Text/Mobile (323) 816-5100
Founder
Make Money While You Sleep!
Founded 1998
---
There are 56.1 million millionaires worldwide. 88% of all millionaires are self-made, and 84% have a college degree. The number of billionaires in 2021 reached a new, all-time high: 2,755 individuals. Source:

Google